hello!
i've been really in the flow of making things and putting stuff out there since quitting social media. i realized i was trying to create perfect products at this unbelievable pace, not giving myself the space to figure out how to create something meaningful to my heart. i was allured by the promise of connecting with others through my work but found myself comparing myself to literal advertisements.
i love love love making music lately. i feel out of control in the process but in a good way. i feel like im witnessing a part of me that is still evolving and growing more and more every time i allow it to flow through. it makes me accomplished in a different way then drawing does. check it out if you like ethereal ambience and cyber feelings
devilsoftware.neocities.org
devil software @ soundcloud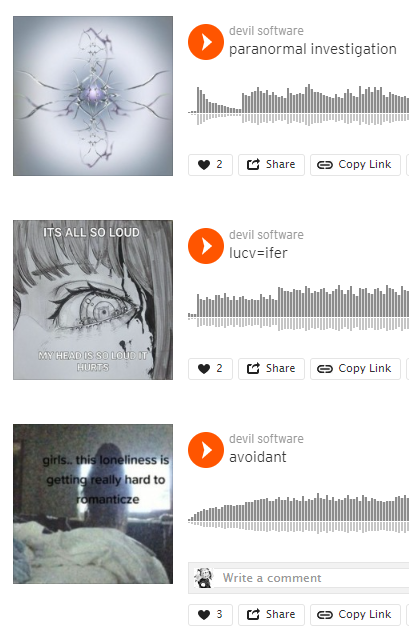 i also started working on my neocities! i have a lot of ideas for it and i'm very excited. trying to take it slow and be patient so i don't burn out, but it's one of my favorite projects to work on right now. i don't want to give a definite date on when my website will be ready, but i know it'll be before this summer for sure.
v happy. v excited. have a good night